Fully Optimised
Each website that we build will be fully optimised from the day it goes live.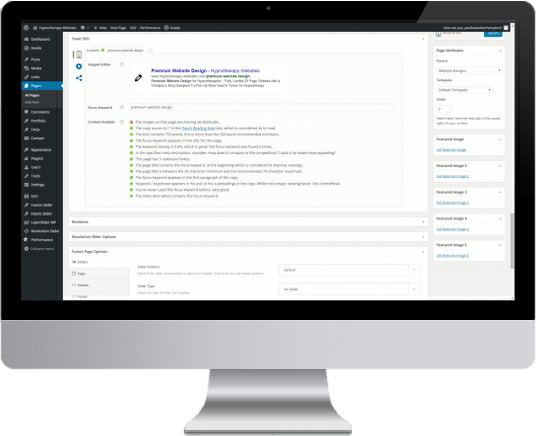 We load the Yoast SEO Plugin to every site we build so that every page on the site is fully optimised for the specific keyword that is being targeted. Website optimisation involves creating pages that are preferentially selected by the Search Engine companies – in real World terms this means Google (66.74%) Bing (10.8%) and Yahoo (10.05%) – that's 87% of all searches by just THREE Search Engines.
Website Optimisation falls into TWO main areas; "On Page Optimisation" which focuses on making sure that the "content" and layout of that content is done in such a way as to be "attractive" to the search engines, and "Off Page Optimisation" which represents all of the elements and factors NOT contained on the site itself. At the initila build stage, we focus all of our attention into the on-page optimisation activities.
Well constructed pages contain the following elements:
Relevant Keywords
Correctly configured "Title Tags"
Well constructed "Description Tags"
Correct Keyword "Density"
Unique content
Image "Alt Tags"